Hands-On Experience at Mountain Bike Event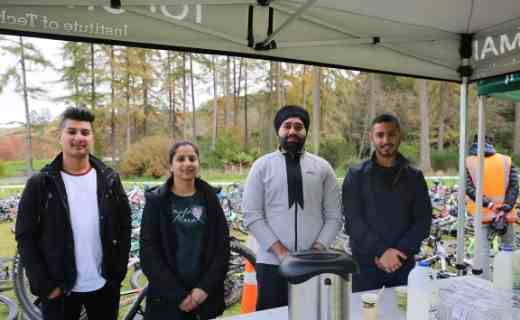 Thursday, 13 May 2021
A mountain biking event for Rotorua children provided Toi Ohomai students with the perfect setting to get hands-on event management experience. 
The Rip, Grip and Whip Mountain Biking event saw 300 children from 15 Rotorua primary schools compete in various events. 
Forty-one event management students from Toi Ohomai took on numerous roles to ensure the smooth running of the event and to gain real experience which will help them put their theory into practice.  
Toi Ohomai Tourism and Hospitality tutor Bronwyn Alton says participating in this community event allowed the students the opportunity to get first hand learning experience and insights into the complexities of event management.
"Students were able to apply their learning from the classroom to this event and took on various roles, from marshalling to videographer and photographer, logistics, MC, managing the hot drink pit stop, and fun zone.
"Students enjoyed the practical hands-on opportunity, and creating connections with our wider community." 
Toi Ohomai students Komalpreet Kaur, Sanam Shrestha, Harjas Singh and Parth Lekhi were looking after the Toi Ohomai chill out area for participants and running the bike check. 
They were serving up hot milo and providing games for students between events. 
Sanam says the event was a great experience.
"We can put into action what we are learning. I've never been part of an event as big as this so it is good to see how things run." 
He says he is interested in running different events when he finishes his course at the end of the year. 
"I want to do all sorts, food, adventure, music. I'm looking forward to working in the industry." 
Komalpreet says the event was fun to be part of. 
"It was really interesting."
Bronwyn says the collaboration was an example of learning by doing. 
"Student gain insights that can be used for their assessment task and to gain work experience in order to build on their employability skills." 
Related content:
Hospitality news articles
,
Industry experience news articles