High School Students Get Farming Insight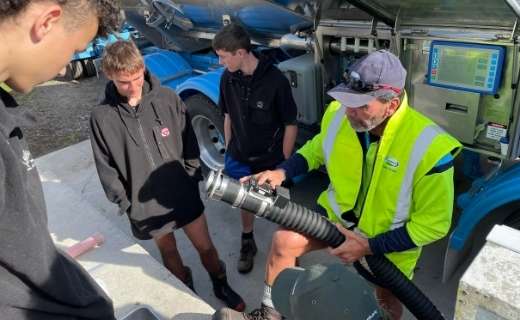 Friday, 25 Jun 2021
More than 100 high school students were given a hands-on insight into a farming career thanks to a farm open day hosted by Farm 4 Life Hub.  
Students were invited to a Pukehina farm to take part in a number of farm-based activities including putting together rubberware used for milking, connecting water pipes, fixing a tyre on a quad bike, weighing animal feed, and the classic gumboot throw. Fonterra also provided a tanker for students to explore and treated the students to a BBQ lunch. 
Toi Ohomai Institute of Technology Secondary-Tertiary Programme (STP) student Tamati Woodward went along to the event and says it was a great experience. 
"My favourite activity today was connecting the water pipes without a leak. It was great to see what opportunities there are in farming and what kind of hands-on skills are involved."
Toi Ohomai agriculture tutor Rachel Nash says that with a shortage of farmers in the industry, events like these are a great way to introduce young people to farming and let them get an understanding for what a career in the industry could look like. 
"There are a number of pathways students can take including being a farm manager which sometimes includes accommodation, meat, and milk."
Farm 4 Life Hub is an online video platform which shows a range of 'how to' dairy farming videos which are designed to help educate budding farmers learn important skills. 
Farm 4 Life Hub founder Tangaroa Walker was the key speaker on the day and was pleased with how the day went. 
"The highlight of my day today was seeing all these students occupy all the modules, and sometimes making mistakes and learning that this is a time where we can reflect on what we've learnt and how we can hopefully go forward and be better."
Walker says he also uses the Farm 4 Life Instagram feed to encourage young New Zealanders to consider the farming industry and so far, has more than 25,000 followers. 
You can find out more about the Toi Ohomai agriculture courses here. 
Related content:
Agriculture news articles