New Horizons Scholarships Dished Out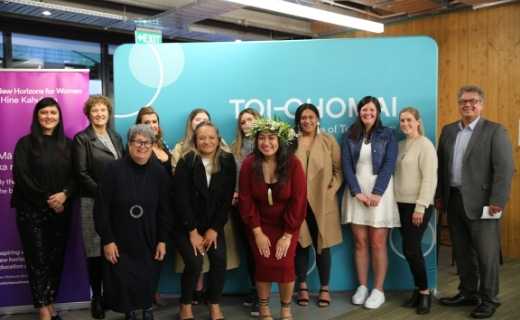 Friday, 15 Oct 2021
New Horizons for Women Trust: Hine Kahukura aims to remove the barriers for women to access training or education. 
The Trust provides grants for women in New Zealand to support them in developing their potential and creating their new horizons.
Toi Ohomai Institute of Technology provides $20,000 to the trust each year, which is dished out as Second Chance Education Awards, given to women who are engaging in tertiary education for the first time. That $20,000 is raised annually at a Charity Golf event. 
Toi Ohomai recently played host to the trust and the recipients of this year's awardees from the Bay of Plenty, Waikato, Hawkes Bay and Gisborne at a scholarship presentation evening. 
The event, which observed level 2 guidelines, acknowledged the women's achievements and dedication to their education. 
Fifteen women were recognised with awards and many spoke about their inspirational personal journeys. 
Guest speaker Dr Tawa Hunter spoke about her journey to become a doctor later in life and how she studiously worked away to be the best she could.  
Toi Ohomai board chair Cathy Cooney praised the award recipients for being prepared and for seizing opportunities. 
"Go out there and make your own luck. You've got great careers ahead of you." 
New Horizons for Women Trust board chair Gail Campbell said the recipients of the awards had overcome great personal challenges to be where they are today. 
She encouraged the recipients to keep going on their journey and to remain positive. 
New Horizons for Women Trust: Hine Kahukura Bay of Plenty, Waikato, Hawkes Bay and Gisborne award recipients:
Mildred Keir Award sponsored by Graduate Women New Zealand Charitable Trust
Risheen Tasi
Second-chance Education (foundation/diploma studies) Award sponsored by Marlene Smith
Tiffany Armitage
Peg Hutchinson Career Change Award funded from the New Horizons for Women Trust: Hine Kahukura Endowment Fund
Rawi Nuku
Outward Bound Activate Course sponsored by Outward Bound and Eva Hartshorn-Sanders
Naomi Carter
Second-chance Education (foundation/diploma studies) Award sponsored by the Waikato Graduate Women Educational Trust
Gwen Rawiri
Sara McCullough
Graduate Women Manawatu Charitable Trust Second-chance Education (degree studies) Award
Siobhan McKenna-Murphy
Second-chance Education (foundation/diploma studies) Award sponsored by Toi Ohomai Institute of Technology
Stevie-Marie Hurihanganui
Cheyenne Wall
Allery Gardiner
Harmony Witika
Second-chance Education (degree studies) Award sponsored by Toi Ohomai Institute of Technology
Seila Vaeluaga
Kim Fifield
Briana Fuller
Lillian Tuhoro
Related content:
Scholarship news articles