Semester One Kicks Off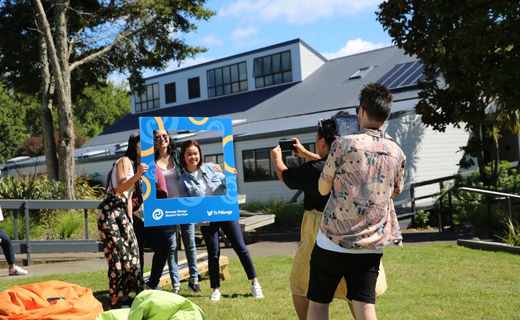 Thursday, 16 Mar 2023
Toi Ohomai ākonga were firmly welcomed to the whānau as we celebrated semester one O'Week Vibes – Wā Whakawaia. 
Each of the six Toi Ohomai Campuses (Windermere, Mokoia, Tokoroa, Taupō, Whakatāne and Waipā) hosted O'Week events aimed at providing ākonga with a kete of information about student support services. 
This year's O'Week celebrations were organised and led by the Student Support and Student Services Teams. Online social media feeds and 20-second guest spots by campus and faculty managers meant distance and online ākonga connected to the events as they rolled out too.
Full participation as an extended Toi Ohomai family was key to the successful days. Music diploma students provided wicked sounds, hospitality students created and sold cordon-bleu treats, events staff cooked burgers and sausages, rainbow group and student reps promoted inclusion and participation, and ākonga got to meet and talk with a full gambit of support staff face to face while taking part in activities. All campus days were run perfectly to fit with their size and special feel.
Student Support manager Sam Honey says having the support services run fun and engaging activities related to their teams, the inclusion of student-led stalls alongside community agencies, really showcased the Toi Ohomai values of kotahitanga, whanaungatanga, toitūtanga and manaakitanga.
"This sets ākonga up for their year knowing that they're never on their journey alone. There was a wide range of activities and prizes; many donated by institute teams, that the students really got on board with. The vibe was wicked."