Tangatarua Marae Celebrates Milestone Anniversary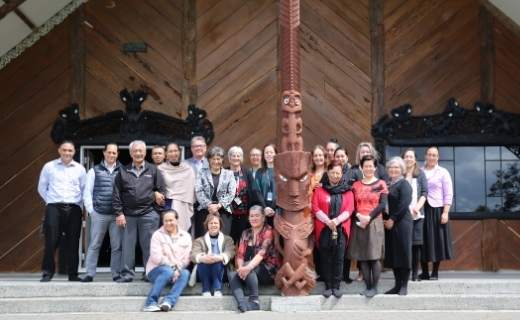 Friday, 08 Oct 2021
Tangatarua Marae has been recognised as a place of belonging, tradition, acceptance, education and celebration as Toi Ohomai Institute of Technology marks its 25th anniversary. 
More than 30 years ago students at Waiariki Institute of Technology mooted the idea of establishing a marae on its Mokoia campus. The idea was shared with Tom Rēweti, the first Head of Te Kura Māori. Tom had already nurtured similar thoughts and set about creating a vision for such a complex. After deliberation, the Chief Executive at the time, Malcolm Murchie, endorsed it.
In 1991, the then Chief Executive, Arapeta Tahana, and Kaumātua, Te Hiko-o-te-rangi Hohepa, picked up on the vision, and a year later it began to materialise with a project plan set in place.
Toi Ohomai Executive Director Partnerships Māori Success and Academic Excellence Huia Haeata says the concept of a marae on campus was unique and was visionary for the times. 
While the idea faced some backlash, Arapeta and Hiko proceeded with the plans and built Tangatarua Marae with support from Te Arawa whānui including local carvers and weavers. More than 4000 people attended the official opening, starting a long-standing tradition of staff, students and the wider community using Tangatarua as a meeting place. 
Arapeta Tahana Junior was one of the guest speakers at the 25th anniversary event, which was held under Level 2 guidelines. Arapeta spoke of his father and Hiko and the significance of Tangatarua. 
"The kaupapa was important to them. It was all about connection, all people and celebrating diversity. 
"The kaupapa is beautiful but also the way it has manifested in the physical building."      
Te Kapua Watene-Hohepa, who is a current Toi Ohomai staff member, was 16 when her father Hiko was involved in establishing the marae. She spoke about her father's dedication to the project and showed a video from the opening of the marae. 
Other staff members spoke of how the marae was an integral part of campus life at Mokoia and how it provided them with a sense of belonging. 
Huia says it was great to be able to gather a small group together to mark the occasion. 
"It is not the large celebration we wanted because of COVID, but we are so glad that we could bring people together to share their stories. 
"In the context of the change we are undergoing within the vocational education sector, this is a timely reminder of the importance of the Tiriti partnership and the connection to the communities we serve. More than ever, we need to ensure that our learners, whānau and communities are at the centre of what we do at Toi Ohomai and what better place than Ihenga – this beautiful whare tupuna to acknowledge this."