Toi Ohomai Graduate Helping with Groundbreaking Research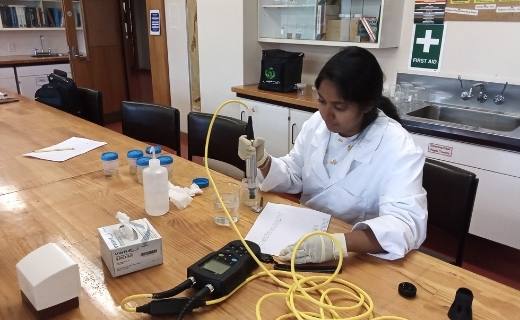 Monday, 08 Mar 2021
Getting vital experience in the field and helping to combat an emerging ecological issue has been the key driver for Poornima Ilangamudali to take part in a groundbreaking summer research project. 
The Toi Ohomai graduate spent six weeks over December and January at Rotopiko as part of a wider team investigating the effects of pest birdlife on a unique peat lake ecosystem.
Rotopiko, a peat lake located south of Ōhaupō between Hamilton and Te Awamutu provides a habitat for many native animals and plants.
Since the completion of Rotopiko's pest-proof fence in 2013, and the successful eradication of mammalian pests (except mice), the lake has also become a night-time roosting site for 'pest' birds, such as starlings and sparrows, which have now reached plague proportions.
A collaborative research project was launched in 2020 between the National Wetland Trust, Wintec and Toi Ohomai Institute of Technology.
Toi Ohomai Academic Staff Member and Poornima's supervisor, Dr Kathryn Ross, says the impacts of introduced birds on ecosystems in New Zealand are poorly understood compared with species like rats and possums.
"Our research at Rotopiko is aiming to monitor some of these impacts and provide insight into how we can manage the problems caused by a large number of pest birds."
The pest birds deposit large amounts of droppings under their roost trees, which has created a developing nutrient enrichment risk to the peat lake's water quality.
Poornima says the main objective of her research was to develop a robust methodology for counting the birds entering Rotopiko because accurate monitoring information is essential to determine whether future management actions have been effective. 
The other objectives are to compare the invertebrate communities inside and outside the predator excluder fence and test the stream water to see if the bird droppings are affecting the water quality.
She said her preliminary findings showed that during the summer of her survey most of the birds entered the site between 7.55pm and 8.35pm.  
She has also identified the sites with the most bird droppings, indicating the preferred roost sites, which will help the National Wetland Trust target management options such as non-toxic deterrent. 
Poornima says the inlet drain is contaminated by lots of bird droppings and as a result has high levels of nitrate and phosphate.
National Wetland Trust Executive Officer Karen Denyer says the work Toi Ohomai and Wintec are doing is invaluable.
"Now that we know for certain from Poornima's work that the drain has been affected by bird droppings, we can take action to prevent the nutrients from reaching the lake, like planting and building small bunds in the drain to act as retention ponds, or maybe even trialling activated carbon to absorb the nutrients."
For Poornima, the project was quite challenging. 
"I worked in the forest until 9.15pm. In the daytime, I had to collect invertebrates in traps and take water samples. The birds would come to the forest between 6.30pm and 9.15pm so I had to start manual counting of birds and setting cameras as well. However, that experience is valuable for me to develop my career."
Despite her field work being complete Poornima is continuing with the project searching for a methodology to count the birds from photos as preliminary findings showed manual counting was too difficult during peak times. 
Poornima is originally from Sri Lanka and came to New Zealand to study the Graduate Diploma in Resource Management at Toi Ohomai.
"Previously I did my Masters in Crop Science and Bachelor's in Agriculture. I am currently searching for a related job in the environmental field."
She says it has been great being part of this research project as it has given her good experience in field work, sample collection, data analysis, presenting and report writing. 
Poornima will also be presenting her findings as part of the Toi Ohomai Summer Student Research Scholarship Snapshot on 18 March.
Related content:
Education news articles
,
Industry experience news articles
,
Marine and environment news articles