Toi Ohomai Student Gleans Golden Honours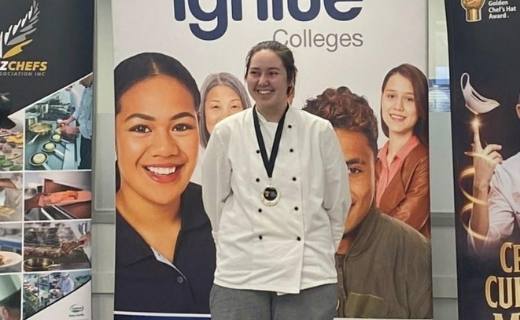 Tuesday, 15 Jun 2021
Toi Ohomai culinary arts student, Samantha Warena, has been crowned the North Island winner of the Nestle Golden Chef's Hat award, which recognises the exceptional talent of New Zealand budding chefs.  
After a tense cook-off against students from around the North Island, Samantha took home the golden hat with her delectable three-course meal made from seasonal, local ingredients.   
Samantha will now spend the next two months refining her skills as she prepares to take on the best young chefs from New Zealand and Australia at the Grand Final in Sydney. 
Samantha is four weeks from finishing her Culinary Arts course at the Toi Ohomai Mokoia Campus, however, a year ago couldn't picture being in this position as she faced a COVID-19 enforced redundancy. 
"This time last year COVID meant I'd just been made redundant from my kitchen job but I wanted to continue to learn and grow as a chef so I chose to upskill by studying. I would never have imagined being able to have these opportunities but the support and encouragement of my tutors meant I had the confidence to enter this competition." 
During the Golden chef's Hat regional cook-off, Samantha had two and a half hours to prepare and present a main and dessert using seasonal local ingredients and Nestle professional products.
Samantha's menu was made up of seared ginger stuffed sous vide chicken breast, a braised chicken lollipop on sweet potato puree and vegetables, while dessert was a chilli infused chocolate mousse on a crispy orange shortbread served with spiced rhubarb. 
"I had been practicing my main and dessert dishes three or four times a week for two weeks. Each time I did it I improved in time and accuracy"
She says she was shocked to win the regional competition but she's thoroughly enjoyed being part of the competition. 
"It's been a wonderful experience the other contestants and I got along well and have promised to keep in touch."
For now, Samantha's focus is on completing her course and practicing for the final of the competition.  
"I was given good feedback from each of the judges that will be helpful for me to improve and do better before the Sydney Finals."
Samantha says she was always told that working in the hospitality industry can be challenging and takes a lot of hard work. 
"I believe that your attitude and work ethic both in and out of the industry can get you far. Passion takes you places. Look where it's gotten me."
Samantha will compete at the Nestle Golden Chef's Hat finals in Sydney between September 4 and 9. 
Related content:
Hospitality news articles