Toi Ohomai Welcomes New NCAP Students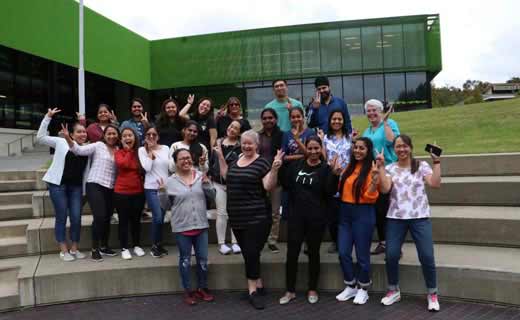 Friday, 21 May 2021
Twenty-one students, who are qualified nurses in their own countries, were welcomed at Toi Ohomai in March to complete the 12-week Nursing Competency Assessment Programme (NCAP) for Overseas Registered Nurses. The students were excited to join Toi Ohomai from their own countries and shared the various challenges and difficulties they experienced prior to starting the next step in their journeys.
Once graduated and registered in New Zealand, these nurses will add immense value to our society as they play a significant role in New Zealand healthcare system and contribute to fill up the skill gaps in aged care facilities and the wider New Zealand health community.
The next intake dates for Toi Ohomai NCAP students will be in July and October 2021.
Check out their unique stories below.
Recy Del Socorro
Tell us about your journey so far?
My New Zealand journey has not always been easy but I've learned so much along the way.
For me, life is a journey and at times can be really depressing, but I've equipped myself with a positive attitude and focus on my goals by taking small steps and achieving little victories along my path.
How was your experience prior to starting the NCAP course?
It was a humbling experience for me since I had to start all over again in my current job as a healthcare assistant.
Back home I cared for newborn babies, but here in New Zealand I take care of elderlies in rest homes. I enjoy my job and I feel fulfilled that I'm able to provide them the care they need the most. My effort has paid off because it helped me pay my tuition for NCAP.
What support have you received from the Toi Ohomai International Team?
Being a former student and current NCAP student, I'm grateful for the moral and emotional support that the International Team provides us. The team is very approachable and helpful when I need help, especially during my NCAP processing. Words cannot express how grateful I am for your support.
Alma Flor Madianda
Tell us about your journey so far?
My New Zealand application to my NCAP admission was a bit of a roller coaster ride. My husband and I came to NZ in Feb 2019. I was a student of the Postgraduate Diploma in Management (Health strand). We knew nobody back then but we had faith and we believed that we would be sustained and provided for. My student life was both fun and stressful, with a lot of learnings along the way. I worked part-time as a cleaner, an experience I'm quite proud of, during my free time and then moved on to a job in line with my nursing profession - a healthcare assistant at the Lakes DHB.
Every new challenge I faced and every experience I had I considered a learning opportunity and a blessing. Application to Commission on Graduates of Foreign Nursing School and Nursing Council proved a difficult challenge during the pandemic. Offices were temporarily closed with no assurance of when they were going to resume operation. It took me eight long months to finally gather all the documents I needed from the Philippines and Saudi Arabia to receive my CAP letter, enrol at Toi Ohomai and start my NCAP as part of the March 2021 intake.
How did you feel about starting the NCAP course?
It was a relief to finally start NCAP together with my lovely classmates. We get along really well and the NCAP tutors and staff have been very informative, accommodating and considerate.
What support have you received from the Toi Ohomai International Team?
I would like to thank the International Team with all my heart. The guys are amazing at what they do and excellent in assisting new and former international students. They're very friendly, helpful and fun. They've done a lot to make students like myself feel welcome, cared for and valued."
Ashly Mangalasseril
How did you feel about starting the NCAP course?
Before the commencement of class I was apprehensive about not understanding the English accent used by the tutors. But thankfully I am able to follow them as they are considerate and speaks as slowly they can. And are very approachable.
What support have you received from the Toi Ohomai International Team?
The international team, before arrival to New Zealand were also equally helpful. Special thanks to Jane Williams and Kavita for everything. Due to the pandemic the offer letter had to be changed multiple time. But they were helpful throughout.
Janine Kwan
Tell us about your journey prior to arriving into New Zealand and starting the NCAP course at Toi Ohomai?
The journey was very stressful due to the issue of the Philippine Immigration, but thankfully a lot of people (especially Filipino nurses who were already in New Zealand) were willing to help us and we were the first batch to go through for this year (2021). Upon arrival at Toi Ohomai, I was a bit confused on where the buildings were but I found signages/maps to help me along the way. The letters on the buildings are very useful to know where you are.
What support have you received from the Toi Ohomai International Team?
Heather contacted us and checked on us immediately after our arrival - even when we were still in the quarantine facility. She made sure that we were alright and was available to help us if we needed her assistance, which included the opening of bank accounts and providing us with information about transportation etc. Her assistance was indeed helpful, as we had just arrived and everything was new and unfamiliar. She helped us familiarise ourselves with and meet the requirements to start the programme. Since we didn't have a place to stay, we opted to stay in the Hall of Residences and were assisted by Aditya and his wife, Sonam. I'm very thankful for all their help and I'm less anxious in staying here at Toi Ohomai. 
Nimisha Thomas
I appreciate the support the International Team has provided from the beginning of our journey until arriving at the Tangatarua Hall of Residence. I was really pleased when they inquired about my requirements like bedsheets, pillow covers, etc. Overall, I'm satisfied with the International Team's support.
Anumol Kulangara John  
As an international student, I'm very happy with all the service that I got from the Toi Ohomai. Their experienced guidance and effective communication has made my stay and study easier in New Zealand.
Related content:
International news articles
,
Nursing news articles