Christine Herbert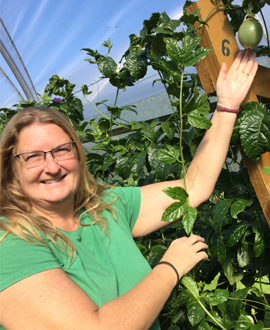 Passion for Fruit Drives Study
Developing a passionfruit orchard on a Tauranga lifestyle block is a far cry from working in Auckland's public transport sector, but Christine Herbert has no regrets about her decision.
Christine and her partner moved to the Bay of Plenty in 2019 and they fell in love with the idea of growing passionfruit after visiting an orchard at Katikati, near Tauranga.
So, when they went looking for a suitable property to grow on and found a rural block of land that met the very specific growing brief. 
"We wanted to make a bit of a lifestyle change. But my partner is allergic to kiwifruit and it's very expensive to get in to. We didn't want to do avocados. 
"But we thought about how a lot of people like passionfruit."
She says she had studied horticulture at School Certificate level in 1985 but knew techniques and understanding had evolved since then.
"I've always wanted to study horticulture further and I thought that after 30 years things probably would have changed. So, I knew I needed to update myself with the new techniques and knowledge."
Christine enrolled on the New Zealand Certificate in Horticulture (Level 3) – Fruit Production strand, at Toi Ohomai last year.
She says while she was studying the Level 3 course, she also volunteered on a fully operational orchard for a few weeks, which gave her the perfect opportunity to apply the skills she'd been learning in class.
"I also joined the industry Association, New Zealand Passionfruit Growers Association (NZPGA) and through that I was connected to another grower. I offered my services in those early times to go and do a bit of work to gain experience. It was about five weeks and during harvesting, which was very interesting and helpful for my own project, as well as my own learning about the horticulture sector."
She says the starter course piqued her interest and now intends studying the New Zealand Diploma in Horticulture (Level 5), Strand in Fruit Production for Profit, in Semester 2 this year.
"The basic aspects of the course will be quite interesting, working through the numbers and how orchards run. I decided not to do Level 4 because it is mainly focused on supervision and management skills. I spent much of my previous career in management so I feel like I already have those skills."
Christine says she's more focused on learning about growing and learning to develop skills for her orchard, especially now they have seedlings growing.
She says they are expecting their first harvest to be next year.
"There was a very strong market but I think things have changed now. Most of the fruit gets exported and now with COVID-19, there's a lot of uncertainty.
"We're not harvesting at the moment and next year will be our first harvest. We're hoping to harvest January and we'll have to see how it goes but I'm optimistic."
Committed to the cause, Christine is now also the secretary for NZPGA , and says she finds joy in being able to volunteer her skills to help the sector flourish, which adds to the quality of her life.
"I joined the Association because it's a really good way of networking and being involved in the industry at the grass roots. When I was first asked about becoming secretary, I was a bit hesitant at first because I haven't had a crop yet, but then I thought: I've got skills and experience that I can use 
 
Find out more about this subject