Kelly Talbot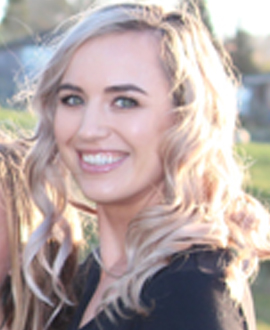 When Kelly Talbot left high school and became a teenage mum, she never dreamed she'd one day win the New Zealand Young Nurse of the Year Award. 
Kelly now works as an acute clinical nurse specialist at Rotorua Southern Cross Hospital, as well as a student nurse educator at Toi Ohomai Institute of Technology. Her outstanding effort in both roles prompted the NZ Nurses Organisation to select her as the country's best young nurse in 2020. 
The achievement highlights how far Kelly has come since her tentative days as a 17-year-old at Mokoia Campus, joining the School for Young Parents with her baby daughter Isabelle. Kelly struggled with low confidence - she was shy, quiet and had minimal ambition - but she knew she wanted to complete NCEA Level 2 and Level 3 to boost her future options. 
As she gained the qualifications, Kelly's tutors urged her to aim higher and enrol in the Bachelor of Nursing. Kelly accepted the challenge, but admits the journey was difficult. 
"I had to dig deep, time and time again, over the course of three very long years. For the most part, I had to juggle the relentless cycle of studying and parenting. I also felt like I wasn't intelligent enough to be a nurse."  
However, Kelly gained valuable insights as she completed her clinical placements and realised she didn't need to be an A-grade student. She built a natural rapport with her patients and excelled as she competently used the new skills she was learning. 
Then, one day, everything changed:
"I was walking along the garden path at home when I received an email on my phone. I froze - I knew this email would change everything. It was notifying me if I'd passed or failed my degree. And thankfully, it said I had passed my final exams and obtained my Bachelor of Nursing. I was elated," Kelly says. 
Her past struggles are something she now values as she ties her real-life experiences into special teaching moments as a Toi Ohomai tutor.   
"When other nursing students feel inadequate or stupid, or are losing their way, I encourage them along by sharing my own grey days of self-doubt… I remember being a student myself, trying to juggle my daughter, work and study. Times were tough and I love that I now have the opportunity to support and mentor students while they are on their clinical placements."  
Kelly's own learning journey has also continued. After a further six years of study, she's now just one paper away from completing her Master of Nursing.  
As for the Nurse of the Year Award, Kelly didn't even know she'd been nominated so the win came as a complete surprise. The judges commended Kelly for her compassion, courage, commitment to the Treaty of Waitangi and the way she explains things in an easily understandable way to enrich the learning experiences of her students. 
Find out more about this subject