Meet Our Sports Tutors
Ruth Naidoo – Academic Leader
Master of Health Science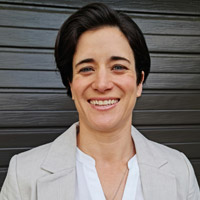 Appointed as Academic Leader for Sport in 2020, Ruth leads the team in the delivery of all Toi Ohomai Sport courses.
Ruth believes that variety is the spice of life and the sport and recreation industry is one which allows awesome variety. Her experience as a gym owner, strength and conditioning coach, personal trainer and athlete add fuel to her love of teaching.
Ruth's experience helps her work towards her mission of creating a positive learning environment to complement her passion for teaching and student success.
For any sport programme related enquiries please contact Ruth.
Allister Field – Academic Staff Member
Master of Sport and Exercise (Strength and Conditioning)

Allister teaches on the Toi Ohomai sport and recreation courses and specialises in teaching exercise physiology and prescription. His masters research helped quantify the acute metabolic demand of sub-maximal running while wearing lower body load as a potential training stimulus for endurance runners.  
Allister's diverse teaching experience began in 2014, including spending two years in Vietnam with his family as the athletic director of an international school.  
Benjamin Gemmell – Academic Staff Member
Bachelor of Sport and Recreation
Ben teaches on the Toi Ohomai Certificate in Fitness (Cert4fitness) course specialising in personal training and group fitness. 
Ben is currently studying his second year of Adult Tertiary Teaching qualification, and completing the Aupikitanga o te Reo Maori through Te Whare Wananga o Aotearoa. Having spent more than 15 years in the fitness industry, and is a Bay of Plenty Polytechnic, WINTEC and AUT graduate. 
Ben now runs his own business, Progressive Training Ltd. specialising in whanau hauora with the vision to see people stand confidently, self-assured and strong to enhance the wellbeing of their entire families and communities.  
Ben currently has made it to three national championships in 2020 including powerlifting, strongman and CrossFit.
Carolynn Margan – Academic Staff Member
Certificate in Sports Massage

Carolynn teaches on the Toi Ohomai therapeutic and sports massage course. She is particularly interested in the sports massage area after spending 25 years working in this field with our elite athletes, focusing on recovery and injury prevention.
Carolynn is very involved with rehabilitation after surgery and is still working with the public.
Crawford Robb – Academic Staff Member
Bachelor of Sport and Recreation
Crawford teaches within the Cert4Fitness team at Toi Ohomai, based in Tauranga. He is also a lead strength and conditioning coach at The Athlete Factory.
Crawford is also an avid amateur athlete within mountain biking and wakeboarding. His passions lie within the fields of sport, sport science and teaching and will look to begin post graduate studies in 2021.
Daniel Wilson – Academic Staff Member
PhD Candidate in Sport and Exercise

Dan teaches on the sport, exercise and recreation courses and is particularly interested in nutrition, strength and conditioning and performance psychology.
Dan is currently completing his PhD via University of Waikato in which he is investigating strategies for enhancing nutrition, physical activity and sleep to enhance health and wellbeing of staff at Air New Zealand
Ellen Pope – Academic Staff Member
Bachelor of Health Studies (Massage and Neuromuscular Therapy)
Ellen teaches on the Level 5 Sports and Therapeutic Massage course at the Mokoia Campus. 
Ellen has a Bachelor of Health Studies (Massage and Neuromuscular Therapy) and is a former massage therapist for High Performance Sport New Zealand, having worked primarily with Rowing New Zealand.
Alongside her teaching role Ellen also runs a clinic in Rotorua, helping people from a variety of backgrounds achieve their sports, fitness or wellbeing goals.
Dr Kelly Pender – Senior Academic Staff Member
MDA - Doctor of Māori Development and Advancement 

Kelly (KP) has been the programme coordinator and tutor on the Certificate in Fitness (Cert4fitness) course since its conception in 2002. Known as more than just a course but a way of life, KP delivers across a broad range of areas within the course.
He recently completed his PhD with Te Whare Wānanga o Awanuiārangi where he used pūrākau and kaupapa Māori methodologies to capture what effective teaching and learning for Māori within the ITP sector might look like.
Hobbies and passions include rugby, off-road running and surfing.
Logan Posthumus – Academic Staff Member
PhD Candidate in Sport and Exercise

Logan teaches on the Toi Ohomai Certificate in Fitness (Cert4fitness) course and specialises in teaching strength and conditioning, nutrition, anatomy, exercise analysis, programme design and coaching.
Logan has a passion for teaching and is interested in improving health and performance within both athletes and general population. 
He is currently completing his PhD at the University of Waikato where he is investigating the body composition and energy requirements of elite rugby union players.
Logan is also a strength and conditioning coach who works with a range of elite athletes. Currently, and for the last few years, Logan has been working with the New Zealand All Blacks head strength and conditioning coach and head nutritionist.
Mike Dudson – Academic Staff Member
Master of Science

Mike's teaching areas are leadership, coaching, sports psychology and work integrated learning. He draws on his experiences as a former volleyball national team player, coach and high-performance manager. He has experience in governance, including a role as a board member of the National Sports Organisation.
He has taught in secondary schools for 10 years, including leading a health and physical education department and has worked in coaching education. 
Dr Paul Winwood – Senior Academic Staff Member
Doctor of Philosophy
Paul teaches on the Toi Ohomai Sport and Recreation courses and specialises in teaching biomechanics and exercise prescription. Paul has a passion for resistance training and research. He is an AUT Research Associate. 
Paul competes in powerlifting, has a wide variety of research interests and is currently the world leading primary author on the sport of strongman. He finished his PhD entitled On Strongman Implement Training and Application in 2015.
Raelene Olsen – Academic Staff Member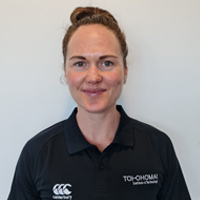 Rae has worked with The New Zealand Defence Force (Navy) for the past 13 years primarily as a physical training instructor. Her career involved leading and training a diverse range of people in health and fitness as well as teaching the new members of her trade. 
As a qualified Yoga instructor, Rae is passionate about holistic health and believes that balance is key. She is also an avid adventurer who loves hiking mountains and running through our native bush in her spare time!
 
Sheree Cooper – Academic Staff Member
Bachelor of Sport and Recreation

Sheree teaches on the Toi Ohomai sport courses and her passion is working with students who are keen to make a positive impact within the wider sport, health and wellness industry, both personally and professionally.  
Sheree completed her degree studies here at Toi Ohomai and celebrates the opportunity to have been taught by the talented team in the sport department.
Over the last 19 years Sheree is proud of, and has loved, being part of the teaching teams with the Certificate in Fitness (Cert4fitness) and now, diploma and degree courses.
Slade King – Academic Staff Member

Slade King has operated as a personal trainer and strength and conditioning coach between here and Australia for the last 10 years now. This has given him a vast range of practical skills and experience in the sports and fitness industry.
Alongside a lifetime of participation in both recreational and high-performance sports, Slade has been highly involved as a lead strength and conditioning coach for the Bay of Plenty Rugby Union. He is highly familiar with both old and current best practices used to enhance physical performance and reduce the likelihood of injuries.
Teaching in the sport and recreation courses is satisfying as it enables him to give back by sharing his knowledge and passion with others, in the field he loves.
Dr Tracey Clissold – Academic Staff Member
Doctor of Philosophy

Tracey teaches on the Toi Ohomai Sport and Recreation courses and specialises in teaching nutrition. Tracey is particularly interested in the link between nutrition, sport performance and wellbeing. Tracey completed her PhD at AUT where she investigated the link between exercise and bone density in premenopausal woman.  
As a former elite marathon runner, Tracey maintains her fitness in endurance sports and is involved in supporting local events and participation in these fields.
 
Dr Camila Nassif – Academic Staff Member
Doctor of Philosophy in Exercise Science

Camila teaches in the New Zealand Diploma in Sport, Recreation and Exercise. After completing her PhD in Exercise Science from Charles Sturt University (Australia) in 2011, Camila migrated to New Zealand from Brazil and fell in love with the country. Her research involved the effects of carbohydrate ingestion on endurance athletes in the heat, looking at the neuromuscular aspects of fatigue.
She has many years of industry experience as an Exercise Physiologist working with a range of clients from athletes to the general population and individuals with challenging health conditions. In 2014, Camila created her own holistic health consultancy business called Science As.
Alongside her consultancy, Camila created a course called "Just Get Healthy for Life" with the aim of giving knowledge to our community so individuals can learn to become the best healthier versions of themselves and live a prolonged healthier life!
Besides her passion for making all those around her healthier, Camila has a passion for Triathlon, cycling and those furry friends that wag their tails, so you might see her around on her bike or running with a furry friend!
Nikki Kelly – Academic Staff Member
Nikki is a passionate advocate for the use of adventure education to bring about growth and learning. Nikki injects her outdoor adventure expertise into the secondary tertiary partnership - sport an recreation.