Medals Galore for Culinary Students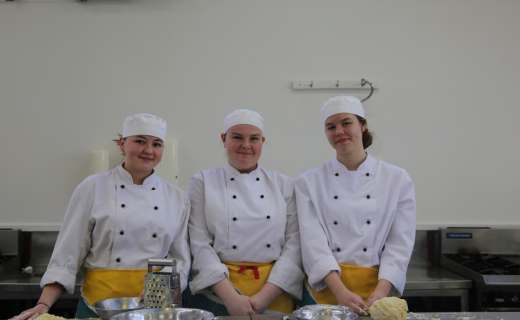 Monday, 21 Aug 2023
A group of Toi Ohomai STP culinary arts ākonga gleaned top honours at the Waikato Culinary Fare, with each one receiving a medal for their efforts. 
They competed against more than 450 students from across the motu at the annual event, which was held at the Wintec | Te Pūkenga Rotokauri Campus Hospitality kitchens.
The Waikato Culinary Fare is a Wintec event, in partnership with Cater Plus, that features static and live food events. Intermediate and high school students compete for the highest scores which see their entries achieve gold, silver or bronze awards. It took place over two days this year in late June.
The Toi Ohomai Secondary Tertiary Programme (STP) offers high school students a first taste of an industry they are interested in. 
Culinary Arts tutor David Collier-Baker says this was the second time he had entered his students into the competition and that he is incredibly proud of their achievements. 
He had seven students competing, with each of them walking away with a medal, between them they achieved four golds, two silver and a bronze. 
"I was blown away by their success. They really enjoyed the whole process, and the competition was a fantastic experience for them."
He says the students, who study at Toi Ohomai two days a week, spent several weeks planning and preparing for the event. Working on their chosen item and perfecting the recipe. 
"They came up with the ideas on their own and as we progressed the recipes evolved." 
The Waikato Culinary Fare has grown to become the largest regional competition of its type in New Zealand. This is made possible by the support of the event sponsors and the wider hospitality industry. This event allows emerging hospitality stars to compete, gaining valuable skills and experience through participation.
It is also an opportunity for the hospitality industry to come together under one roof, celebrating the sector.
Aleah Green, 16, took out a gold medal for her chocolate, caramel and coffee cupcakes and says she is excited about pursuing a career in baking. 
"This was my first competition. I was pretty nervous and was so shocked to get gold but a career in baking is definitely my dream. 
"I love the creativity and actually find it really calming." 
Western Heights High School's Olivia Boulcott aims on becoming a chef and was proud that her braised lamb shank pie with homemade pasty earned her a silver medal. 
"It was really exciting. I loved the whole experience." 
Toni Daniels, 17

Te Kura o te Koutu
Tropical Mille Feuille
Silver

Connie Clark, 18

Western Heights High School
Lemon Cupcakes
Gold

Aleah Green, 16

Tauhara College
Chocolate, Caramel, Coffee Cupcakes
Gold

Courtney Garner, 17

Tarawera High School
Berries and Cream Cupcakes
Gold

Kai Keane, 17

Western Heights High School
Chocolate Mudcake
Bronze

Olivia Boulcott, 18

Western Heights High School
Braised Lamb Shank Pie
Silver

Khori Pari, 17

Western Heights High School
Caramel Cupcakes
Gold

 
 
Related content:
Hospitality news articles